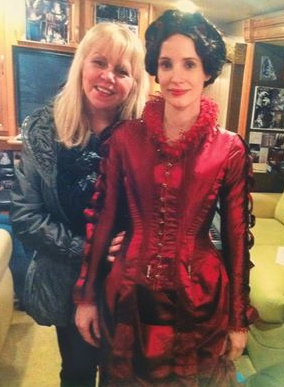 So, as you may have heard, last April I was Jessica Chastain's piano-pounding body double in the Guillermo Del Torro thriller "Crimson Peak". Crazy, right? Let me tell you, it was more than a fluke opportunity – it was more like a ripple in space/time… 
In April 2014 I received two emails out of the blue from two distant acquaintances – the first, from a guitarist I had hired probably 5 years ago, the second, from a voice teacher in the city I had worked with once a few months prior. They both described the production's urgent need for a female pianist of Ms. Chastain's dimensions, with long, slim fingers, who could play the last page of Chopin's Ballade in G Minor convincingly. I sent in my measurements, photos of my hands, and a quick recording of the Ballade. They called me into wardrobe for a fitting the next day. I've been on movie sets before, I even had an acting agent for a while, but I'd never been called in to do anything remotely like this – it came, quite literally, from out of nowhere. What struck me as particularly surreal and eerie was that I was the lead's double, a shadow self, a twin, a mirror image. I was a walking echo… Carl Jung would have had opinions here I'm sure. 
I was fitted into exact replicas of Jessica's full period-piece gown (including corset, skirt, collar, bustle), wig, and jewelry. The skirt and bustle weighed about 20 pounds. Nothing unusual occurred to me during the fittings or makeup sessions – the crazy, mind-bending realization came only during the piano scene where I took Jessica's place for a few seconds to play, and then stepped out to watch the next scenes on the monitor. 
The set was one of the lavish ballrooms in Casa Loma, filled to capacity with characters in gorgeous period regalia. The evil main character and her brother are hosting a lavish party and at one point in the evening, she sits at the piano to perform for her guests as they dance. Enter Slean. 
Surrounding the wildly ornate piano was a string quintet of men in tuxedos with perfectly combed mustaches, tiny round spectacles and pristine white gloves. That's when I started thinking, "Wow, this is a bit odd. What are the chances of me being asked to play with a string ensemble? It's the way I've been performing for the last 4 years… And in this time period too, with which I've been enamoured for almost all my adult life? And in a red gown?" Red gowns have figured into my art and music since Night Bugs way back in 2002. Recall the Sweet Ones video? My painting on the back of the album? Press photos for the Baroness? Red gowns red gowns red gowns. 
When I finished my take I stood watching the monitor to witness the next scene – Jessica turns around on the piano bench, as if she had just played, and stares malevolently into the camera. When these exact motions unfolded on the screen, I actually gasped out loud.  I quite literally clapped my hand over my mouth. The very scene I was looking at, I had PAINTED over TEN YEARS PRIOR, in exquisite detail. The dress, the piano surrounded by musicians, the precise pose, the hair, everything. It turns out, as I thought about it, I've painted this character numerous times in my life and always in a red dress almost EXACTLY like the red dress I was wearing at that moment. But this – the whole carefully orchestrated scene from my imagination – right in front of my eyes… it was mind-bending. 
I had chills. I found photos of the painting in my phone and started to show some members of the crew, who were visibly gobsmacked. 
I was then talking to Jessica (yep, just chatting away with Jessica, my bestie.. 😉 ) and she said "this sort of thing happens on Guillaume's sets all the time". 
What?! Then (and this still kills me to this day) Jessica tells me her character's name in the film. Lucille. No big deal, right? Except, 
THE BARONESS Lucille.  I'm not kidding. 
"The Baroness" was an alter ego I created in 2002 or so, as a painting for my major label debut (see below). I hadn't named her at that time, but this character has lived within me as a kind of fuel source – she was the boldness and juice I required to be able to get on stage and perform. When I was younger, the attention I received for my music rattled my psyche significantly. I felt I needed this protection. Later, in 2006-7 or so, as I was writing a new album (mostly in Paris) I named her "The Baroness", which was eventually the title of that recording. What could have possessed a shy girl from Pickering to select this name as an alter ego, dress her this way, paint her repeatedly, sing from that energy, and to rely on her vivid presence? What are the odds that I would MEET this character on the earthly plane?! Here are some of the images that blew me away. First – me in the costume.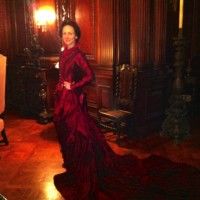 Me in the costume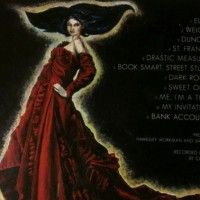 Here is the painting I made for the back of my first record Night Bugs **in 2002**. That was the first appearance of this character in my art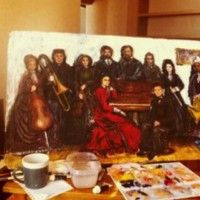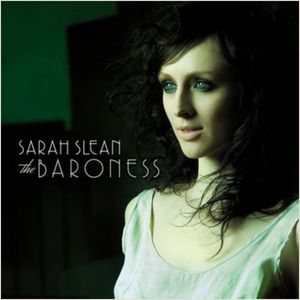 Here is the album "The Baroness" released in 2008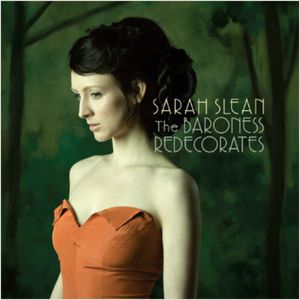 An album cover from 2010. This is ALL BEFORE the making of this movie – which was filmed in 2014.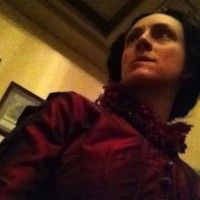 And here is another – look at this collar!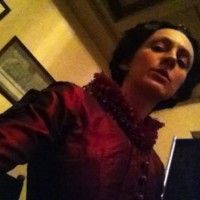 And here is another – look at this collar!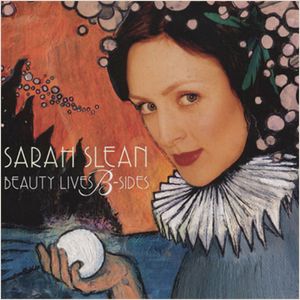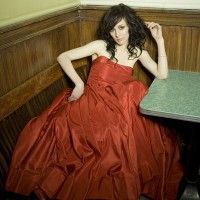 Red gown promotion 2008's Baroness
Have you ever experienced something like this? I want to hear your stories – the ones that seem to scream that some kind of greater narrative is happening and the cosmos is indeed a living, thinking, thing… 
Still in awe… xo 
SS