Hey everybody – I've missed you! So much news! Read on… 
SYMPHONY NOVA SCOTIA: CONTEST ALERT! 
After months of prep – I'll finally be in Halifax this week with Symphony Nova Scotia rehearsing for our big shows this Friday November 23rd and Saturday Nov. 24th! 
And we are nearing a sell-out – so if you'd like a chance to win two spots on my guest list – write us to say why you and a guest would love to be there – we'll notify the lucky winner Thursday end of day! (sarah@sarahslean.com) 
The first half of the program, I will be at the piano playing orchestrated versions of songs from Night Bugs to Metaphysics – including new arrangements by my excellent colleagues Kevin Lau, Virginia Kilbertus and Aaron Tsang. For the second half we'll perform "Ecstasy" – a three part song cycle composed Christos Hatzis, text by yours truly. 
In 2012, Christos wrote the incredible song cycle "Lamento" for me to sing for my Symphony Nova Scotia debut. 
The CBC filmed and recorded this and it was a great success – I've now sung it with four other orchestras! But both Christos and I thought it was an unusually dark and tragic piece given the bright and hopeful spiritual worldview we both share, so he asked me to work on text for a companion piece – something more positive and life-affirming… well – that's what we're premiering this weekend!! "Ecstasy" is quite a moving and dramatic creation… I have given it a sub-title – "3 part mystical awakening". See if you agree! The CBC will be filming and recording this as well. 
A NEW MUSICAL! 
Another wonderful thing to announce! I've been asked to write the music for the stage musical adaptation of the award-winning film. It's just a beautiful, beautiful film and I'm so thrilled to be working with a great team of people on this story!! Oh the songs I will write for this… *swoon!* 
More news on this front in a few months… 
DOWNLOADABLE SHEET MUSIC! 
That's right – at LONG LAST IT IS HERE! We will have a wide selection of sheet music available for download starting next week now – direct from the website! 
I will be rolling out almost everything we have from my long hours of transcription for last year's Pledgemusic orders (THANK YOU!) My end goal is an "anthology" scorebook (physical) ready in 2019. 
OMG! *jumping up and down* 
CLASSICAL COMPOSING – PIANO QUARTET 
The Ensemble Made in Canada commissioned 14 composers to write piano quartets for the provinces and waterways of Canada. 
I was invited to compose, and I chose a province dear to my heart – Newfoundland! The ensemble has been touring all over the country and performed in Toronto on Thursday evening. 
Here's a photo of me with some great composers Kevin Lau and Andrew Downing.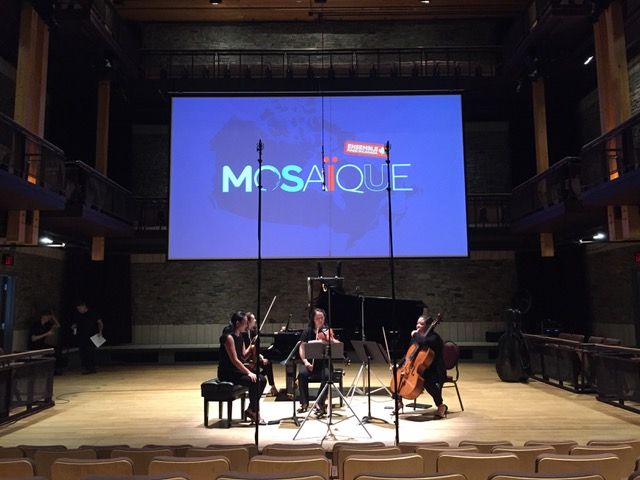 ARRANGEMENTS FOR CHOIR! 
I was hired to arrange two songs for the amazing New Choir from Toronto! If you'd like to hear them, their big concert is January 26th next year at the Masonic Temple. 
CBC RADIO HOSTING 
I've been hosting radio at the CBC! One episode of Drive, a full week of Shift (both have already aired) and also a full week of Tempo, the classical show, which will air later this year / early next year. 
HOSPITAL SHOW SHOOTING SOON 
"Everybody's on TV" will be the theme song for this hilarious new comedy, developed by Adam G. Reid – and I'll also be scoring the new episodes they're shooting this December. Woo! 
HOLIDAY BUNDLES COMING! 
In a few weeks, we'll be clearing out the vaults at Maplemusic to make way for some new merchandise – get ready for some amazing Christmas deals! 
Bundles galore – including ORIGINAL video costumes, perhaps an original painting or two, and some exclusive stuff that won't be printed again. Squee! 
Speaking of holiday's, I will be joining Andy Kim at his 14th Annual Christmas show on December 20th at the The Burlington Performing Arts Centre. I will be singing four songs for charity. 
EN DIRECT DE L'UNIVERS – KARINE VANASSE 
November 10th I performed on the hit Quebec TV show En Direct de L'Univers, as a surprise for the charming actress Karine Vanessa, alongside Half Moon Run, Jean Michel Blais and many other fantastic singers. 
Merci tout le monde!